I
don't know what I'm more excited about — carving a pumpkin, getting candy for the treaters or sipping this chilled autumn spooky sangria?
Surprisingly, everything aforementioned sounds "average".
All I can think about is the fun I had styling and shooting this recipe!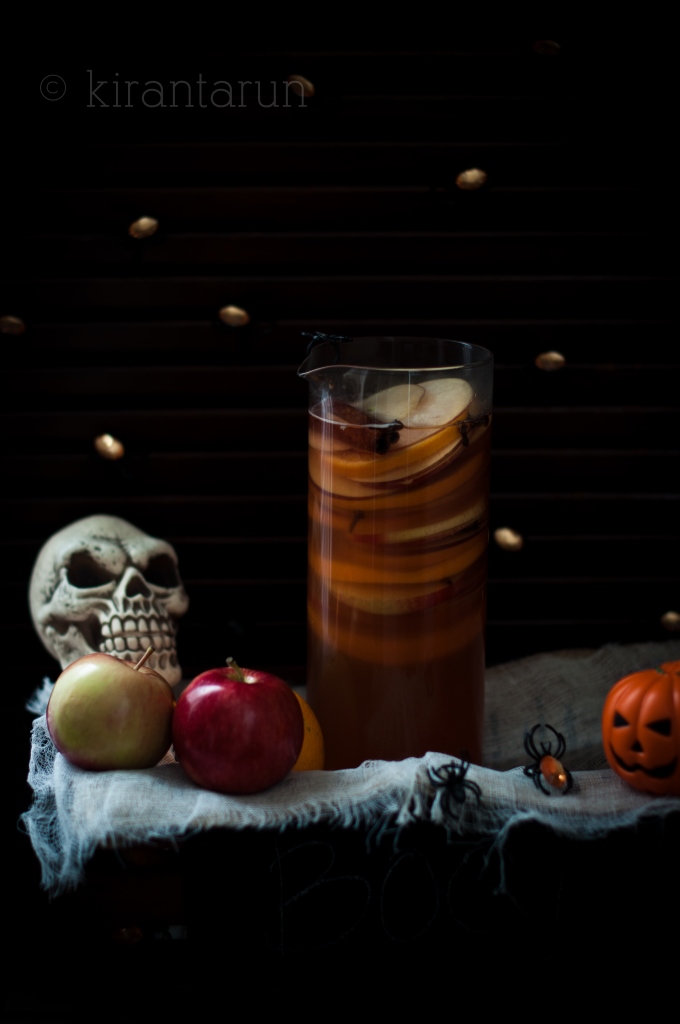 I had all the props from previous Halloween celebrations, except the spider rings which came home with me after a spot of shopping at Target. That place has a knack for tempting its customers.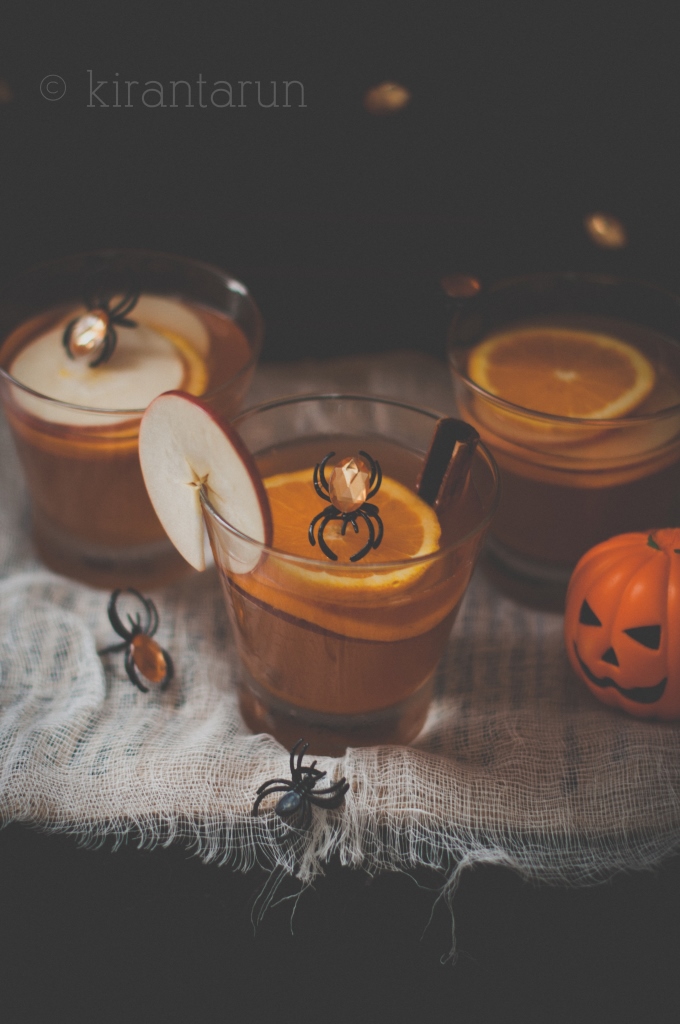 There's a lot of emphasis on foods and treats during Halloween. Drinks should take the center stage too. Nothing extravagant like dry ice that comes out from a science lab, just delightful and spooky sangria.
If layers of flavors, textures and ingredients doesn't tempt you enough — you've got to love the color!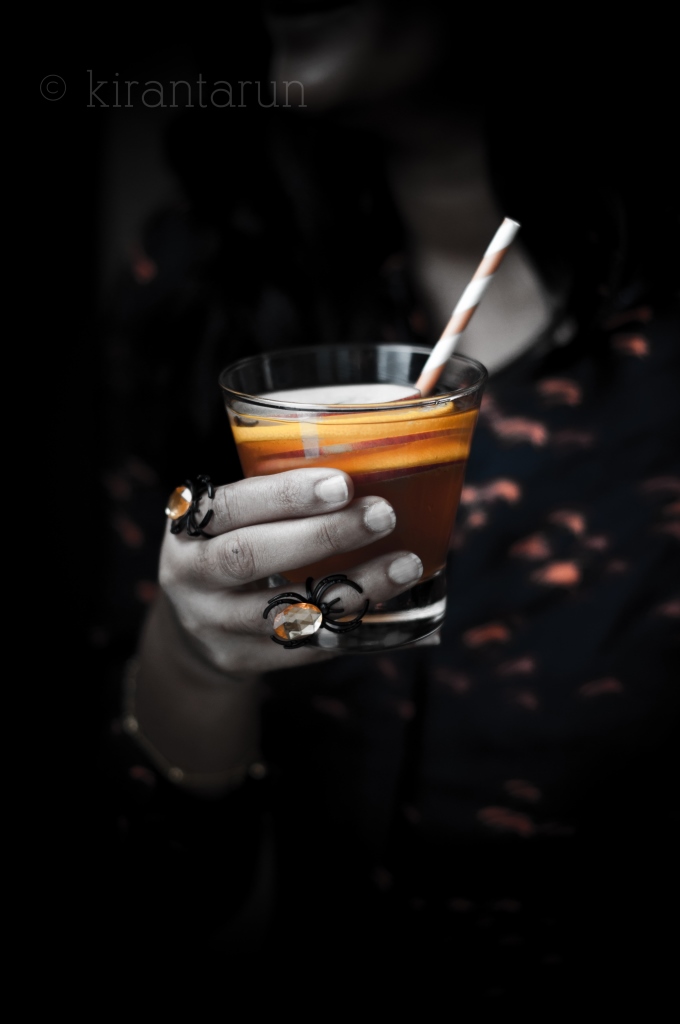 This definitely is not your typical cocktail. It's pretty strong and you want to bulk it up with ice. Or else, you'd need a ride home after the party. Whatever may your choice be, just be forewarned — YOU ARE GOING TO LOVE IT AND FORGET ALL ABOUT THE CANDIES 😉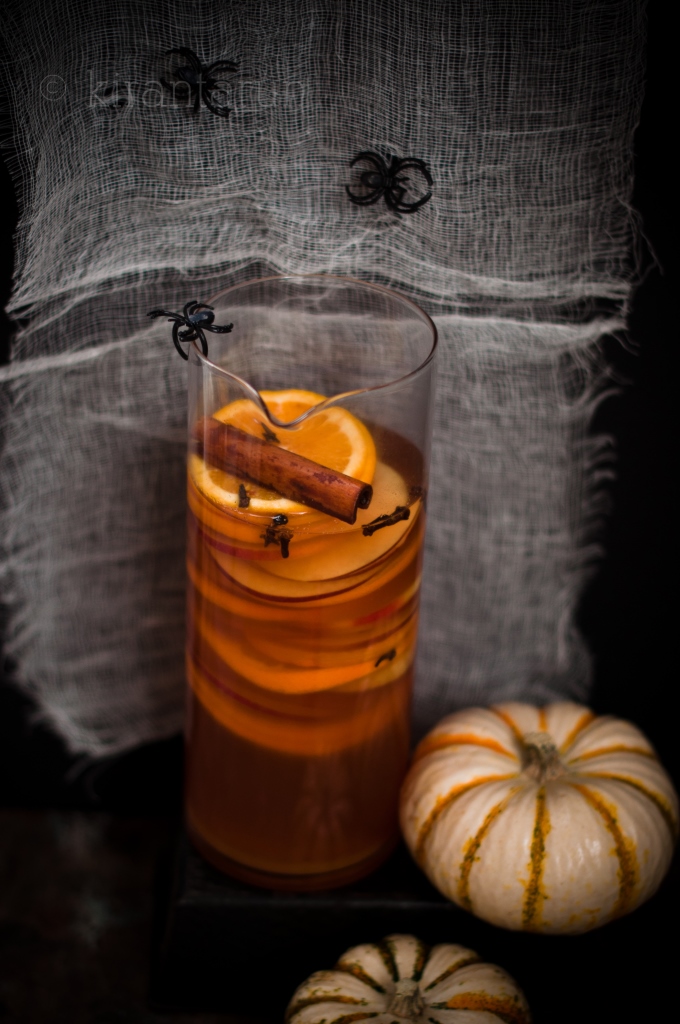 Print This Recipe
Makes 6 servings
Ingredients:
2 small honeycrisp apples, thinly sliced
1 orange, thinly sliced
1/2 tsp salt
1/2 tsp ginger powder
1 tsp whole cloves
3 cinnamon sticks
2 tbsp pumpkin butter or puree
1 cup apple or pumpkin flavored bourbon
2 cups apple cider
1 bottle of pink rosé wine
ice cubes
Directions:
Add all ingredients (except ice cubes) into a tall large pitcher. Stir to combine and refrigerate for at least 24 hours.
To serve: Add ice cubes into glasses. Top it off with chilled sangria and fruits. Cheers!
NOTE: I made another version of this sangria with freshly roasted pumpkin instead of pumpkin butter. Allow the roasted pumpkin to cool at room temperature and you'd need 6 wedges (with skins on!). Add it into the sangria and allow all the flavors to steep for overnight. The sangria would look a little more hazier, but so delicious!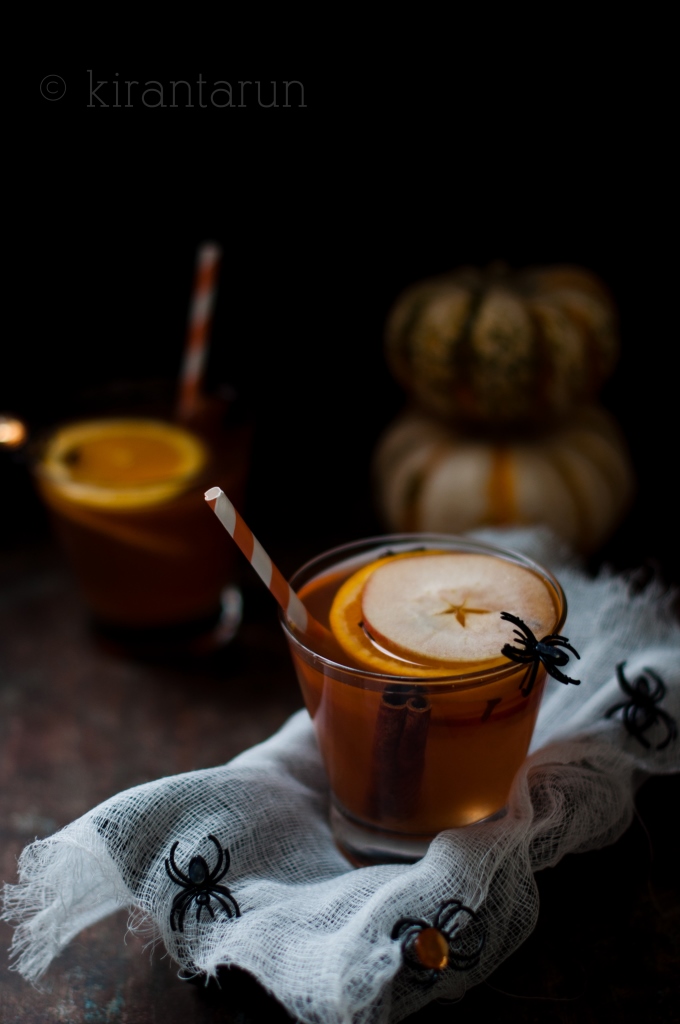 Hope you have a very spooky and fun Halloween celebrations. Just watch your back for any unwanted surprises. Boo!!
What would you serve for sips on Halloween? Are you trick-o-treating this year?