Hi y'all!
P
romise, I don't sound at all like Paula Deen. As a Floridian, I am just trying to blend in. Been doing that for the last 3+ years and counting. I think it's time to stop now.
So, the title of this post is aloo baingan. Let me ease you from the misery and head scratch. Aloo = Potatoes, Baingan = Eggplant/Brinjal/Aubergine —> depending where you hail from.
Moving on from the translation...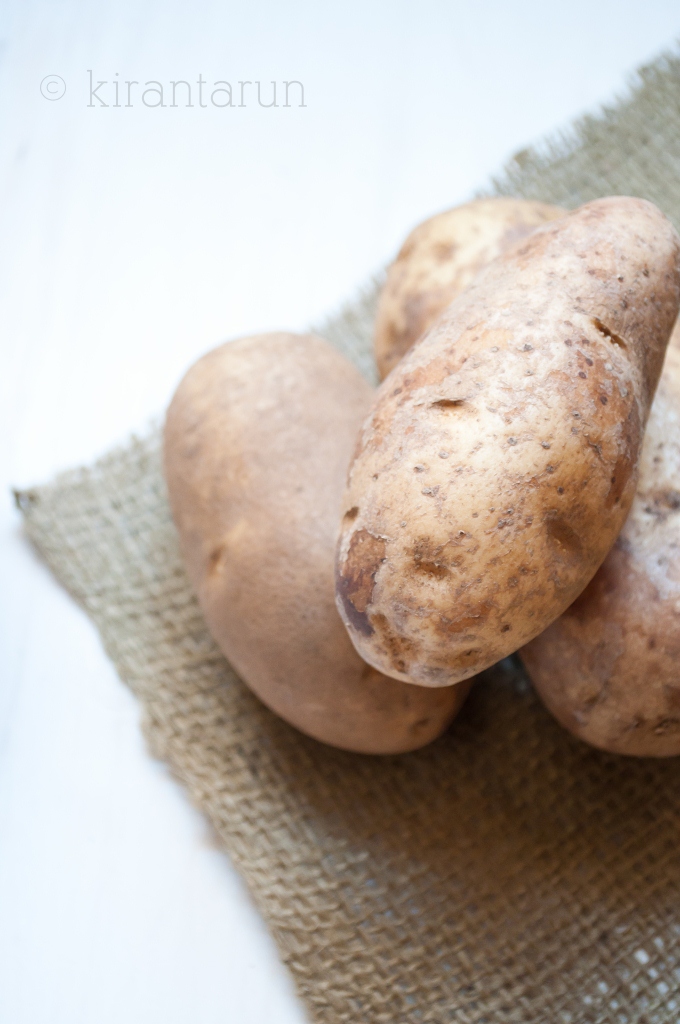 I've been busy developing new recipes these days. And my mom continues pestering me on:
"when are you posting recipe "X" on your blog? I need to cook for friends visiting this weekend"..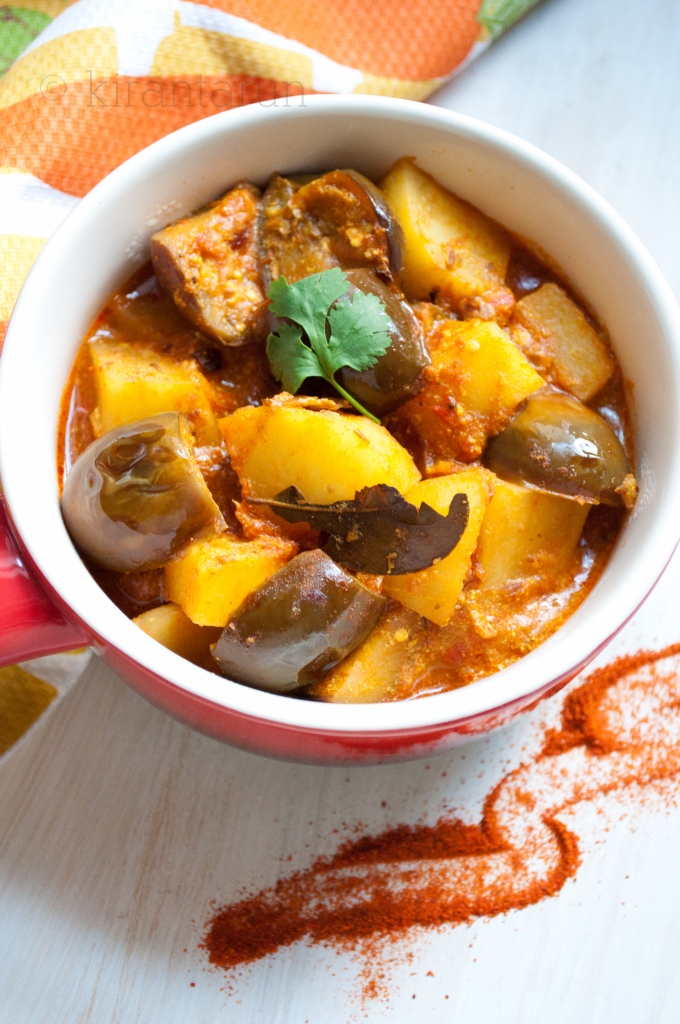 Wow, times have really changed. I wouldn't regard myself as being the best cook in the town. But what an honor when mom expects a recipe from her daughter! It should be the other way around, right?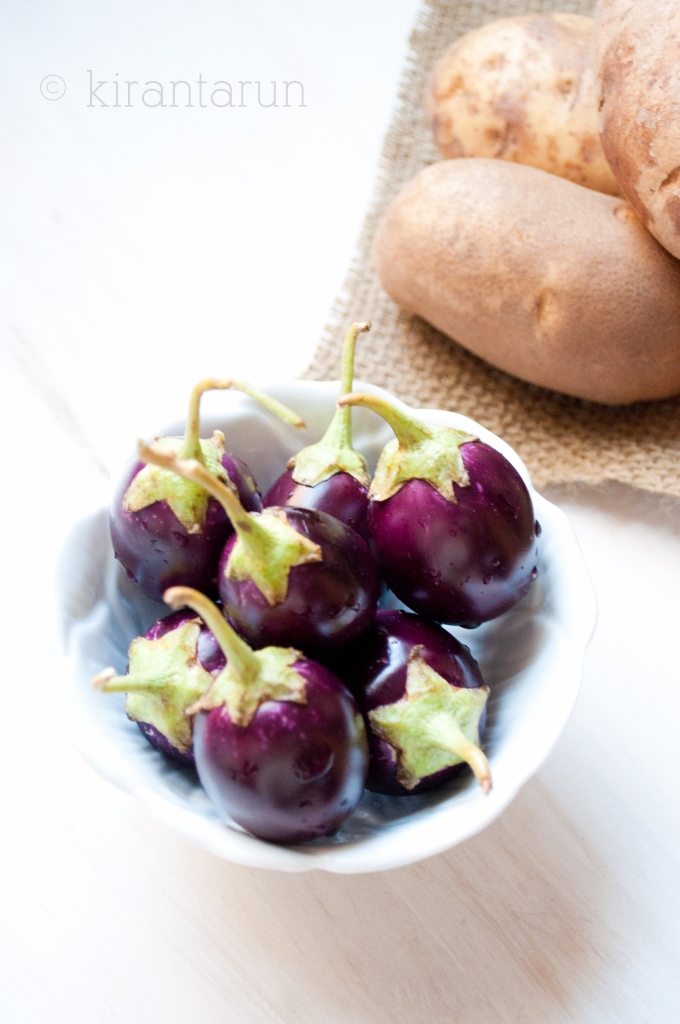 I figured out the main reason for all those recipe requests. Mom is a terrific cook, no doubt about that. But ever since I got hitched by a North Indian (inter-faith marriage), I've learned many new ways to cook from my mom in law. Where we hailed from, yogurt was never used in cooking. Heck, the first time I ever feasted on paneer was only after marriage. Don't judge.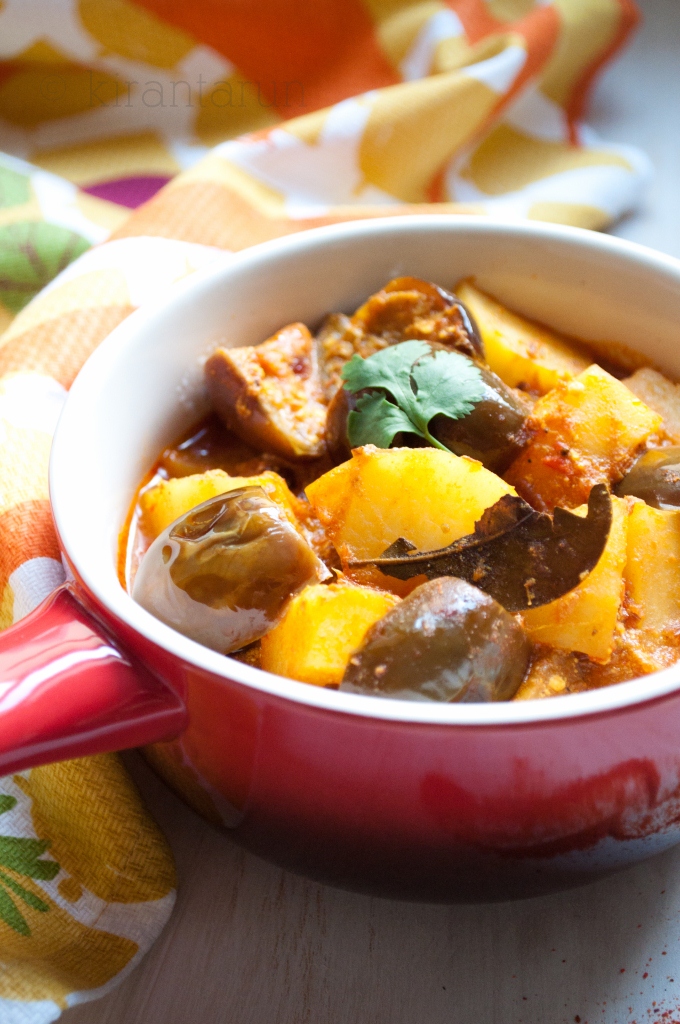 Malaysia is rich for not only the culture, but foods. The multi-cultural society exposed mom in difference style of cooking and ingredients. She cooks delicious Punjabi, Malay, Chinese, Thai, Tamil influenced foods. We couldn't expect Mom to focus her culinary adventures based only on Punjabi dishes. Nope. That's not my mom 😉 She loves challenges and has instilled her values in me as well. Thank you mom!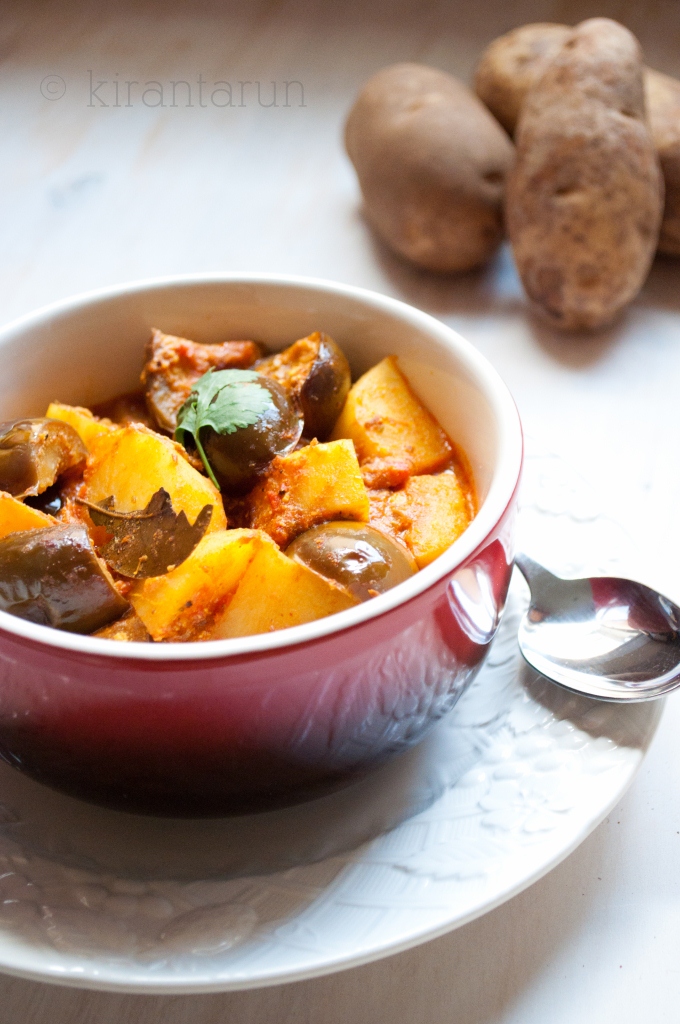 My mom in law is famous for her delicious yet simple vegetarian recipes. She continues to guide me with new recipes and encourages me to use unfamiliar ingredients. This recipe is a creation using two of my favorite ingredients: potatoes + eggplant, drenched in a tomato yogurt gravy. Aloo baingan masala is generally made with a base/gravy, using tomatoes + onions and spices. My twist on this recipe is by introducing some yogurty goodness in the gravy.
Question : Who inspires you or your culinary adventures in the kitchen?

Print This Recipe
Ingredients:
3 medium potatoes, cubed bite size
6-7 small eggplants, cubed bite size
4 tbsp cooking oil
1/2 tsp crushed cumin seeds
1 medium red onion, ground into paste
1/2 tsp of ginger + garlic paste
1 heaping tbsp tomato paste
2 bay leaves
3 heaping tbsp non-fat yogurt
1/2 cup of water
salt to taste
fresh coriander leaves for garnish
Spice mix
1/2 tsp ground cinnamon
1/2 tsp ground cloves
1/2 tsp ground coriander
1/2 tsp ground cumin
1/2 tsp ground cardamom
1/2 tsp red chili powder
1/2 tsp ground fennel
Directions:
Heat a non-stick skillet to medium high. Add 2 tbsp cooking oil, fry potatoes and eggplants for some color. This should take no more than 5 minutes. Stir in between.
While cooking the veggies, ground onion in a blender or mortar & pestle. You might have to add a tablespoon or two of water.
Remove veggies from heat to cool.
In the same skillet, add remaining cooking oil and sprinkle in some crushed cumin seeds. Fry for a few seconds.
Throw in ground onions, ginger and garlic paste. Fry till fragrant. This should take about 10 minutes.
Add tomato paste and spice mix. Stir to combine and continue to cook for a few minutes.
Return veggies into the skillet.
Once oil begins separating to the sides, add non-fat yogurt, bay leaves, water and salt to taste.
Cover skillet and simmer on low heat for 20 minutes until veggies are fully cooked and tender.
Garnish with fresh coriander leaves & serve hot with steamed rice or chapattis!
Crisp salad as pictured above – made with sliced radishes, onions and green chilies makes a perfect condiment for this dish.