I
'm about to reveal something very dark. Something that I've find so difficult to admit — I'm a self-professed food prop hoarder.
There… It feels so good to come clean.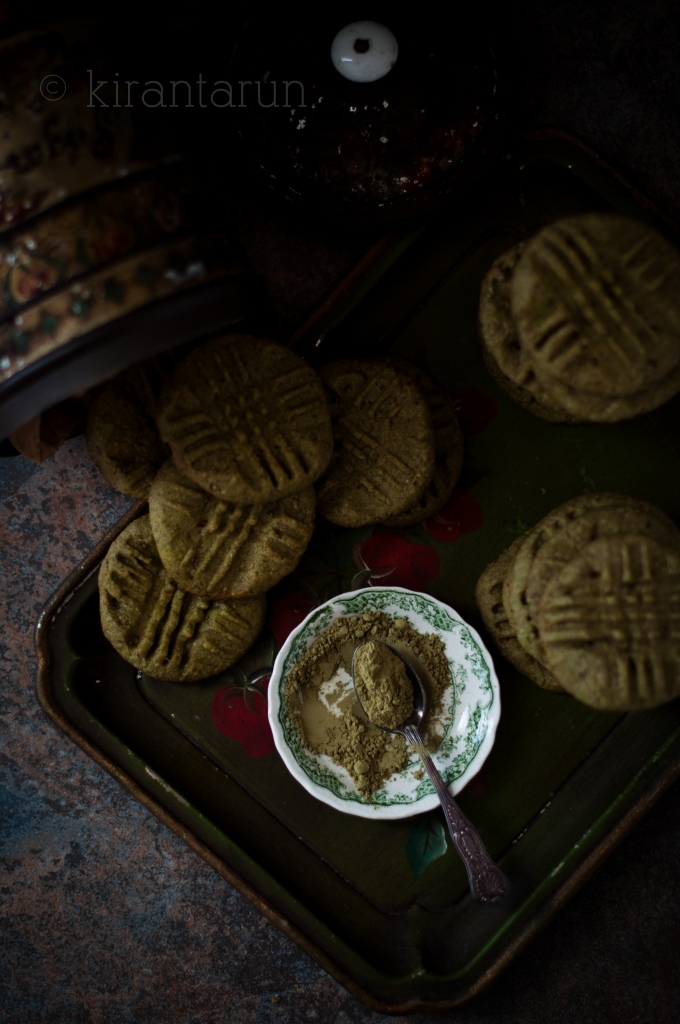 If you are at my home right now, I'd be embarrassed. There's stuff strewn all over the place!! We are in the midst of redecorating and reorganizing on a budget.
And when I say "reorganizing", that simply means everything that was once tucked away into dark corners, are dug out. There's so much and I'm pretty overwhelmed.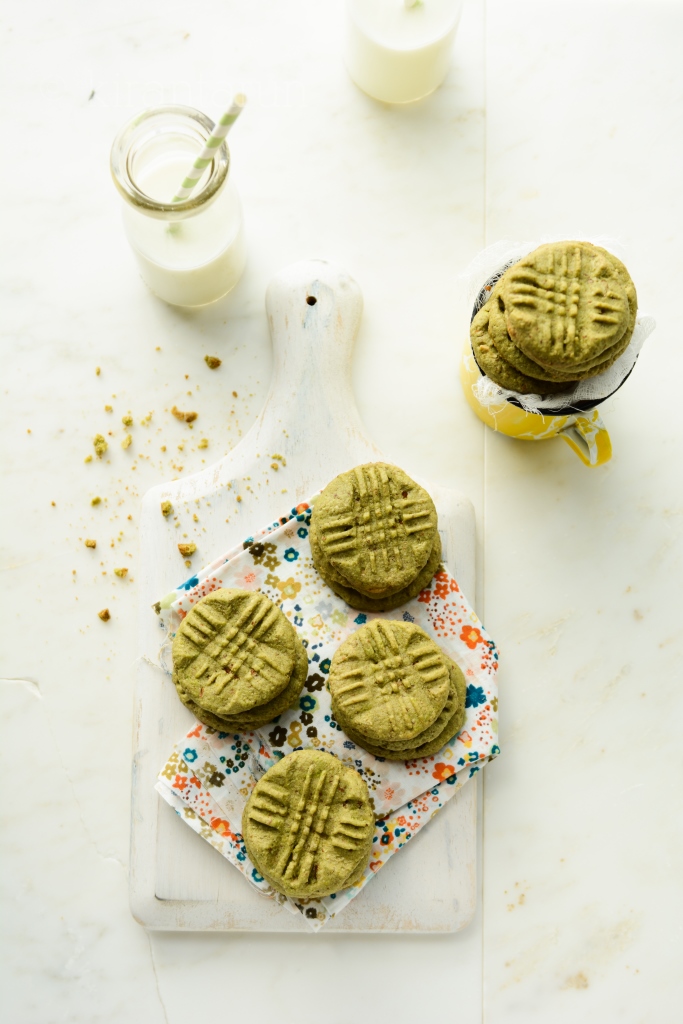 After collecting props and antique kitchenware for a few years now, it seems I've been collecting way more than I thought. And now, space is a huge problem.
Of course, not to mention other crap that we are holding onto which clearly has to be donated or recycled. Take empty carton or boxes for example. It's pilling on in the garage!! Why oh why does it have to pile for so long?!?
I guess spring cleaning is in the air and its time to let go.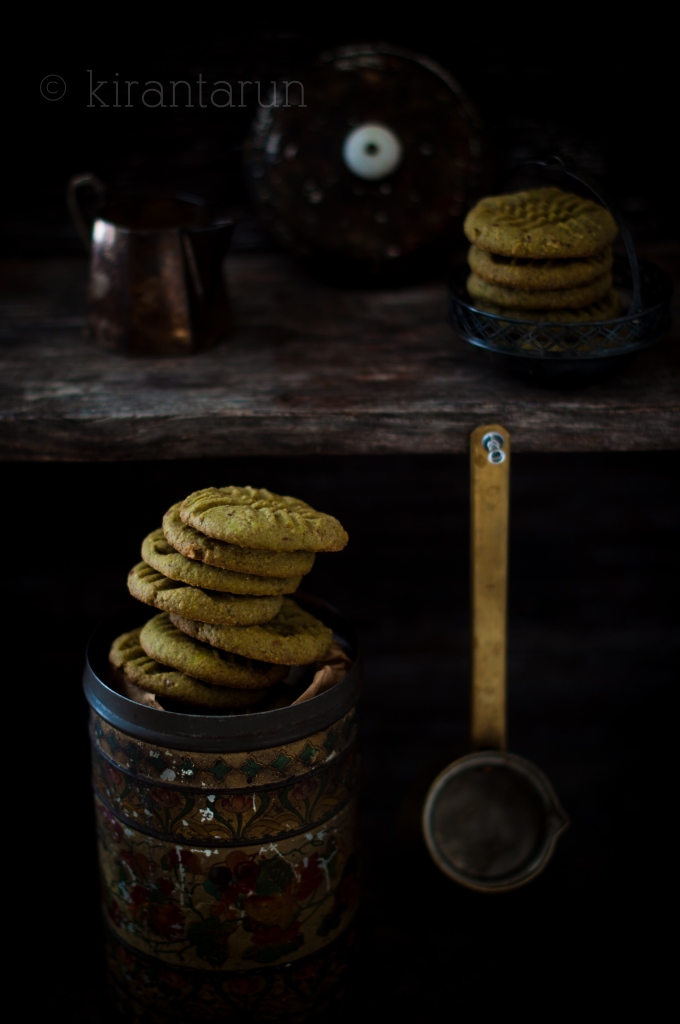 FYI — we are not mega hoarders like the ones on TV. Just a lot sober in comparison 😉
So, what do you do when you are overwhelmed? Bake cookies, naturally.

Print This Recipe
Makes 25 cookies
Ingredients:
1/2 cup butter, softened at room temperature
1/3 cup sugar
1/3 cup light brown sugar, lightly packed
1 egg, room temperature
1 tsp vanilla extract
1 cup almond meal
1 cup all purpose flour
1/2 tsp salt
1/4 tsp baking soda
3 tbsp pure matcha green tea powder
1/3 cup whole almonds, chopped
Directions:
Preheat oven to 350F. Line baking sheets with parchment paper.
In a stand mixer fitted with paddle, add butter, sugar and light brown sugar. Cream on medium speed, until fluffy for about 1 minute. With the mixer on low, gently stream in vanilla extract and egg.
In a separate bowl, sift the rest of dry ingredients (flours, salt and baking soda). With the mixer on low, add sifted ingredients and chopped almonds. Stir until just combined. Do not over-mix cookie dough.
Remove dough bowl. Scoop cookie dough with a small ice cream scoop onto baking sheets, leaving enough room between scoops. Using a fork, gently press down onto cookie dough to form a disk. Imprint horizontally and vertically.
Bake cookies for 12 minutes. Remove cookies from oven to allow to cool on baking sheet for 5 minutes, before cooling it off completely on cooling racks.
Enjoy these cookies with your friends, over a cup of milk, tea or coffee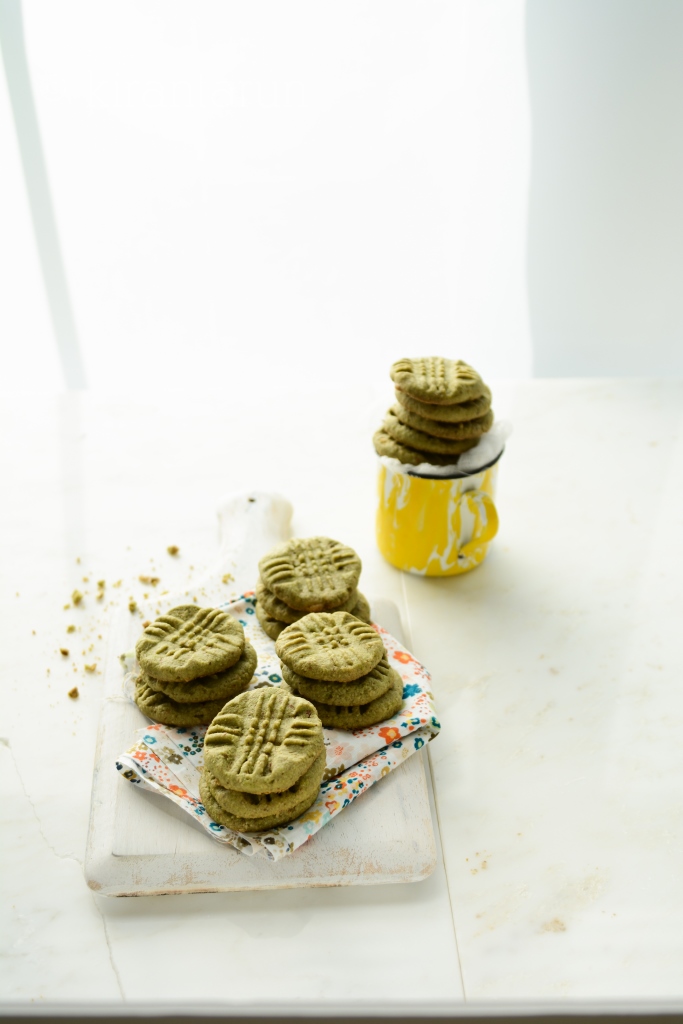 On the good front: I'm working on a few food photography series/posts for the blog. Since there's countless requests to feature this series, wish me luck. I find it tough to pen down my thoughts on the overall process. But I'll try my very best to publish it as soon as spring cleaning around here, completes.
I'm keen to share and learn from you in the process 🙂
Help me decide on the topics I should cover on food photography in the comment section.