'Tis the season to bake cookies, Fa la la la la, la la la la …
Finally, the temps in Orlando is cooling down. Not gradually though as it's freeezzzzinng cold out there. I can't think of a better time to immerse myself  in baking warm, crumbly almond cookies. Nothing better than to fill home with all the warmth from baking. This recipe was an inspiration from one of my favorite food blogger, Jaden Hair @ Steamy Kitchen. With tweaks to suit my some what healthy living effort, let's begin baking up a storm 🙂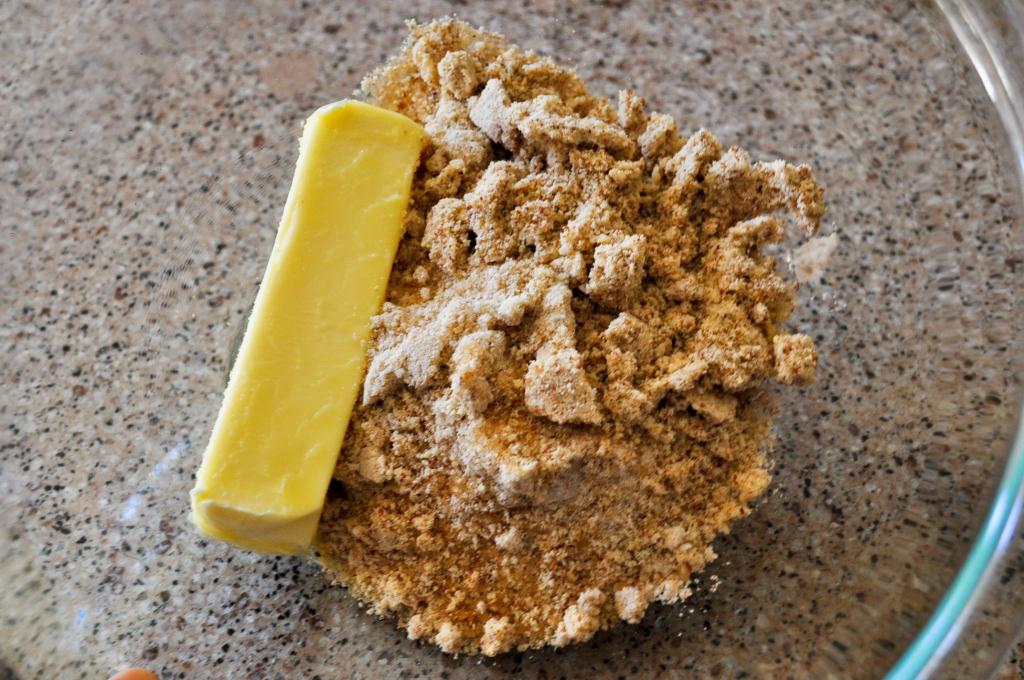 The original recipe calls for 1 cup (2 sticks) of butter. But I added only 1/2 cup of butter and substitute with 1/3 cup of extra light olive oil. Dump butter and oil with ground almonds and sugar into a bowl. With a hand or stand mixer, cream till smooth.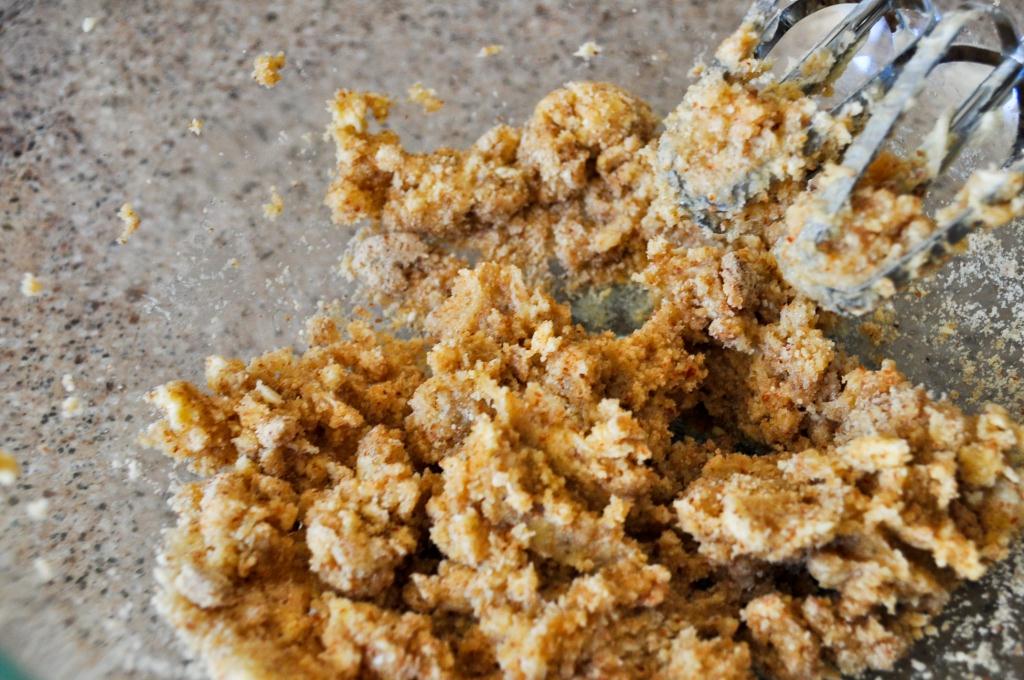 … or so I thought…
In my instance, the hand mixer finally gave up on me. It just stopped working and emitted fumes that was not at all pleasant. So it was time for decision making. Continue or abandon the task at hand? Of course continue with the greatest tool we should be proud of – a whisk!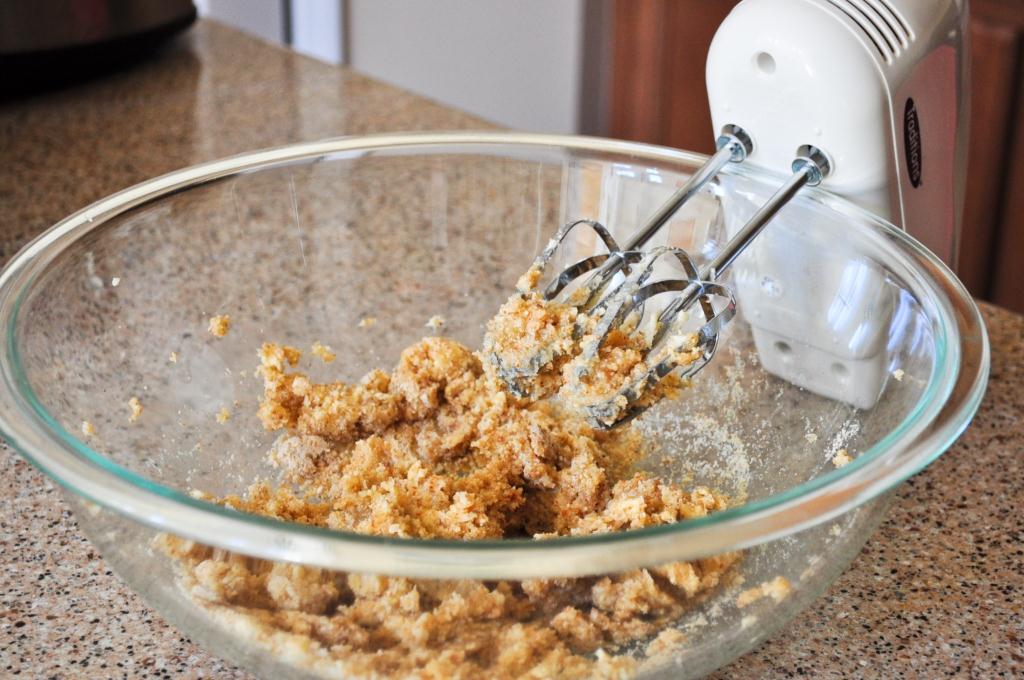 I rolled up my sleeves (literally) and got on working up a speed with the whisk. Creaming away.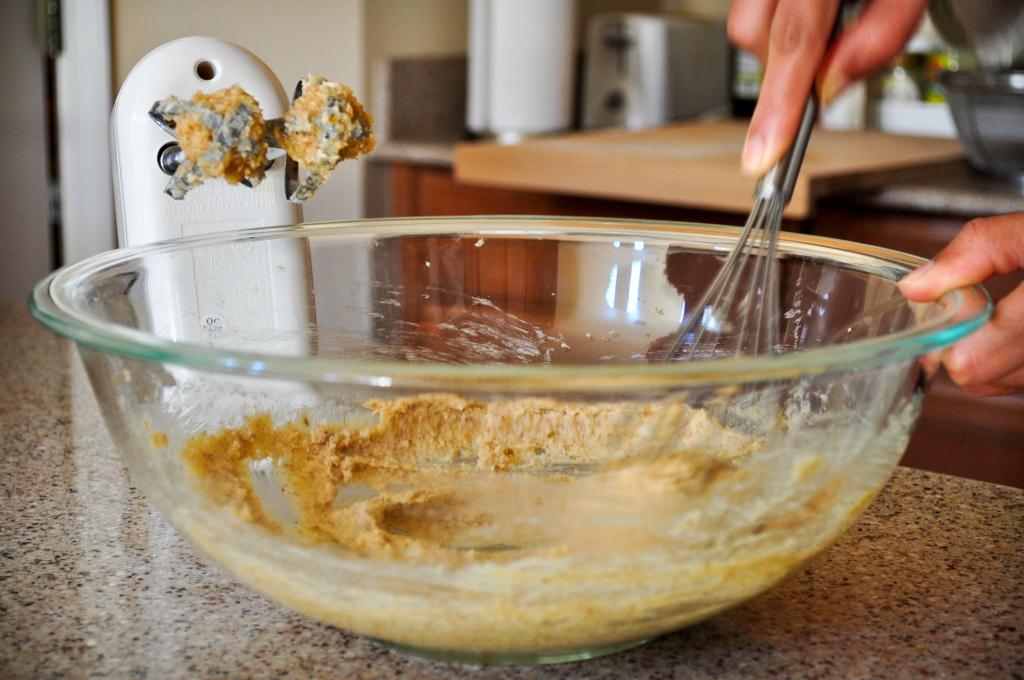 And the results? This is the texture you would need as per the actual recipe 😉 Add in some almond extract to intensify the flavors.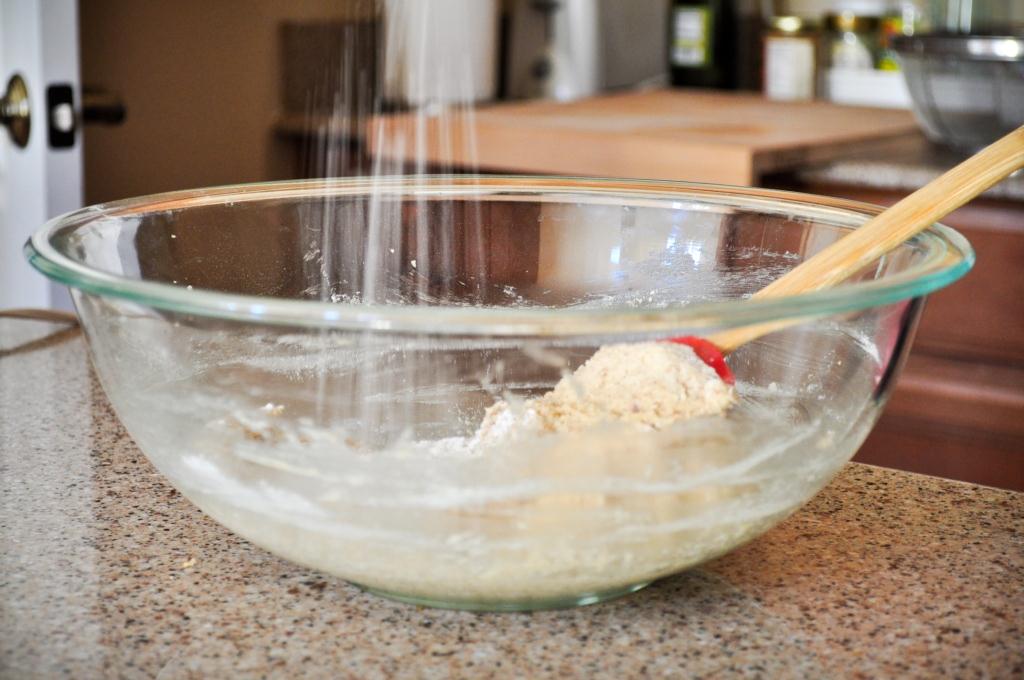 In a separate bowl, mix flour and salt. Add the flour to the wet ingredients and cream away with your hand or stand (KitchenAid envious) mixer. I had no choice at this point of time but to use the 2nd best tool – my hands. If you find this at all loathing, I can understand. But I promise, it would taste good. Patience is virtue. Keep adding the flour little at a time and mix till incorporated.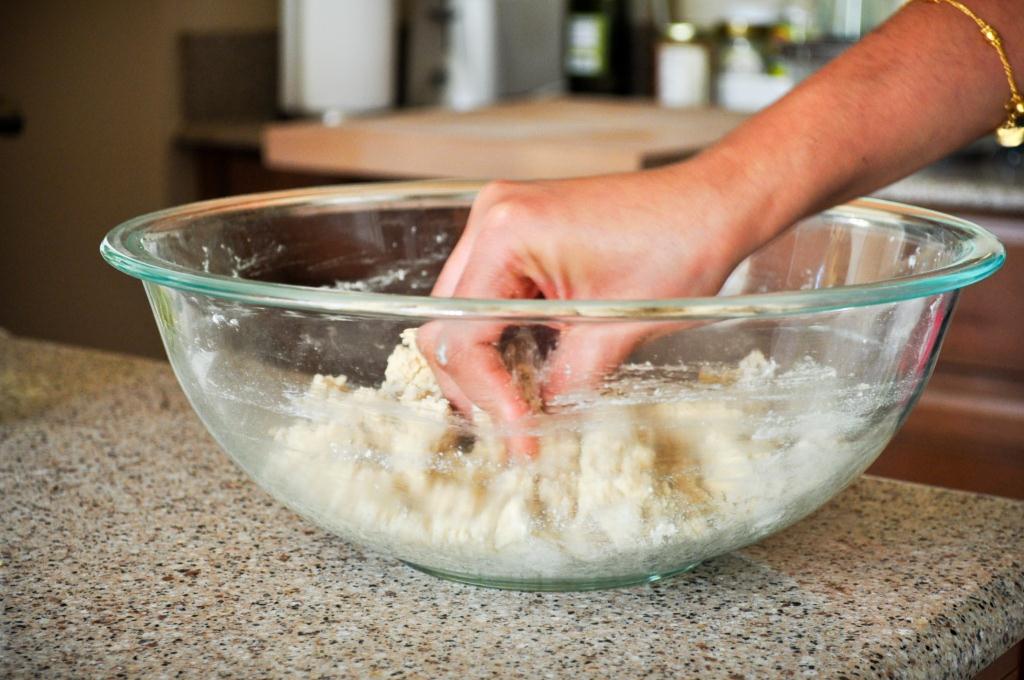 The resulting moist dough would make you smile. But don't be fooled by it. There's more work to be done 🙂 Shape the dough however you like – ball, or thumbprints like what I did.
Take a spoonful of dough and round it up like a ball. Use your thumb to apply little pressure in the middle of the dough and create a thumbprint of sort. Lay it all on a lightly greased cookie sheet.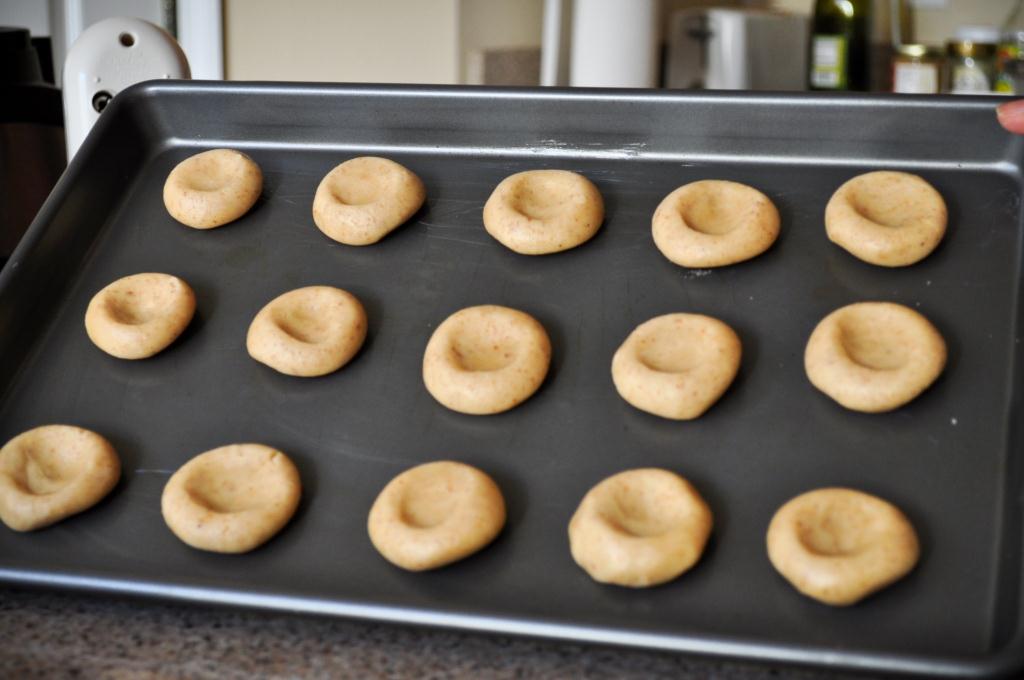 I like cookies that are shiny and pretty. So I went ahead and prep some egg wash, which is basically an egg with a little water. I brushed it on the cookies to give it some shine and to act as adhesive for…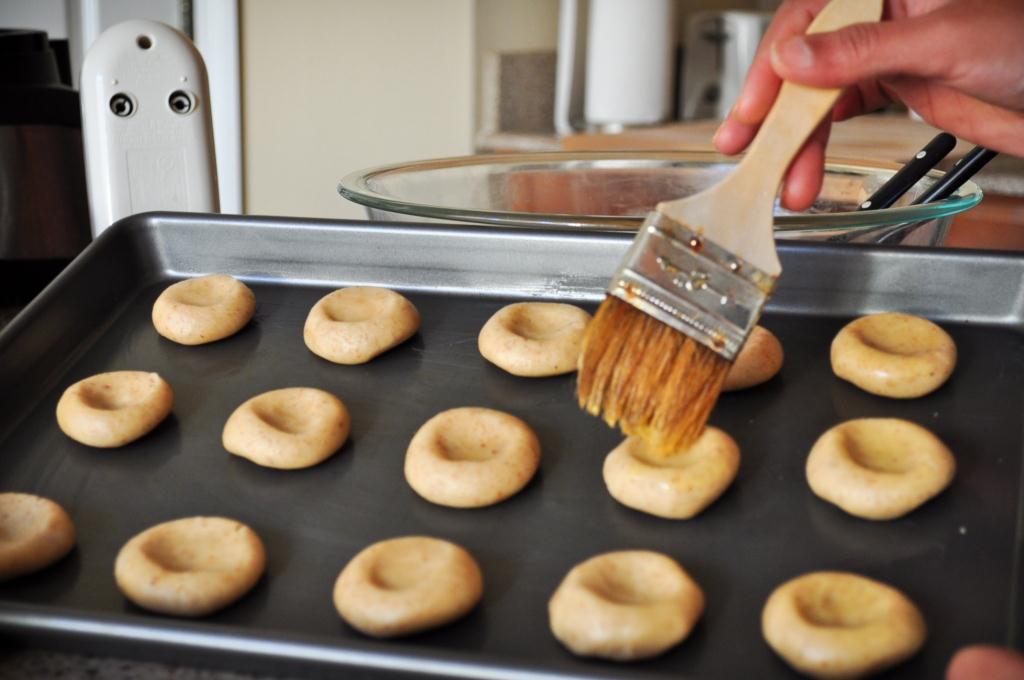 chopped almond nuts! Feel free to top your cookie with anything you want. Make it festive 🙂
Chuck it into the oven and after 20 to 22 minutes…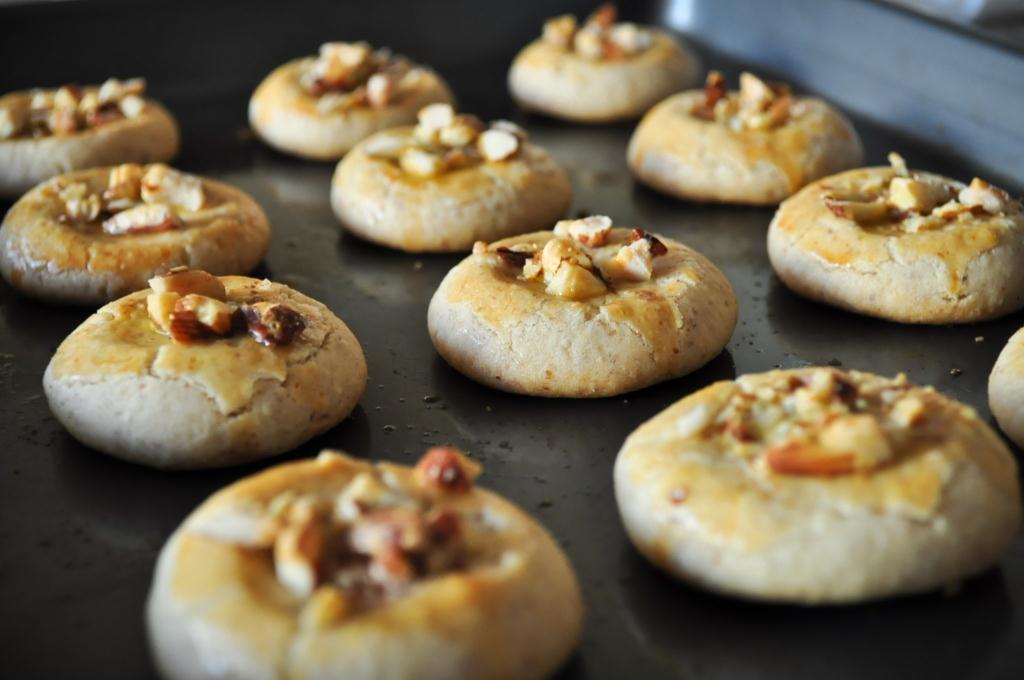 Take a step back to admire your creations. And oh, run and get your camera to capture the moment before gobbling it all up! This cookies are so deliciously crumbly, it would melt your heart and warmth your soul. Too dramatic? Bake it today and let me know 🙂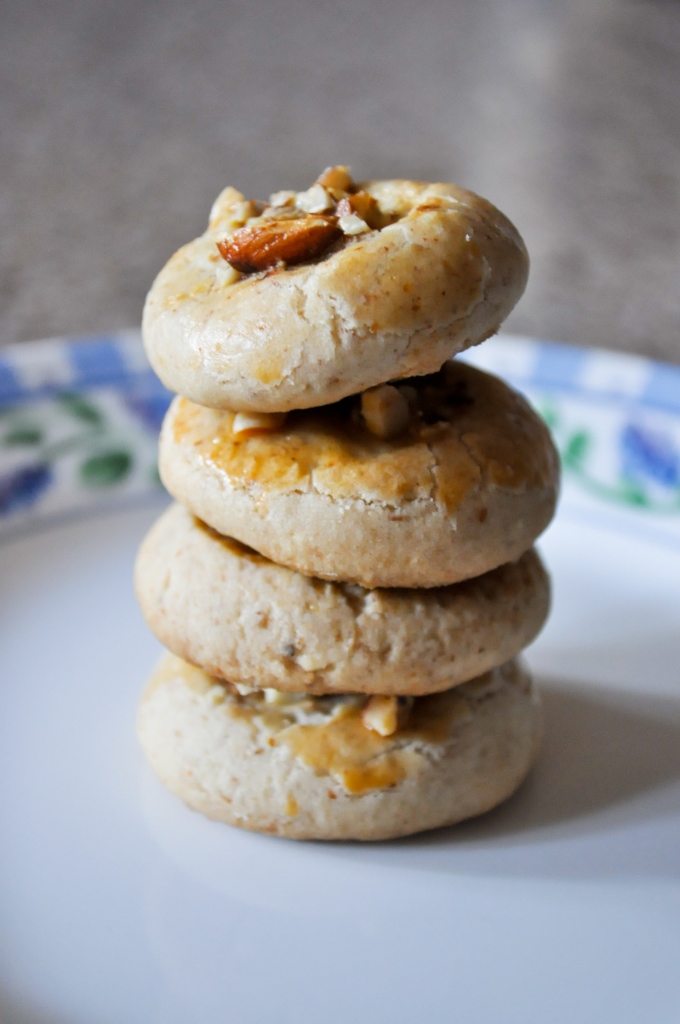 MMmm.. Oh so yummy. It stays fresh for a few days. Just pack it up in an air-tight container.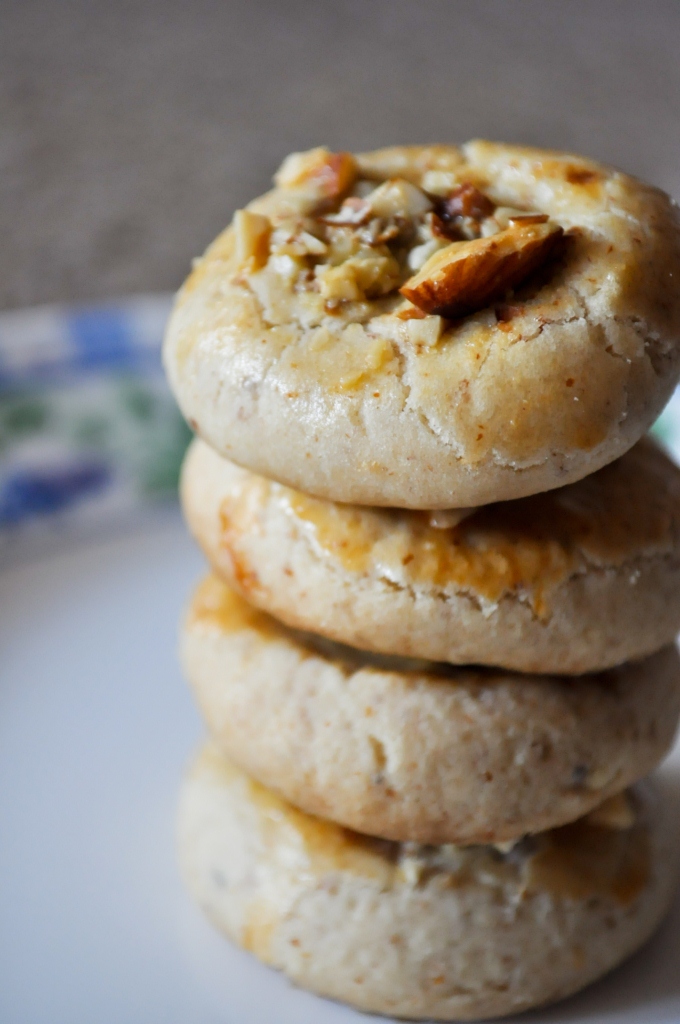 Are you baking up a storm for the holidays? What is your all time favorite cookie recipe? Feel free to share it in the comment section 🙂
Adapted from SteamyKitchen.com – with some personal tweaks.
Ingredients
1/2 cup (1 stick) butter, softened
1/3 cup extra light olive/vegetable oil
1/3 cup sugar
2/3 cup ground almonds
1 tsp almond extract
1-2/3 cups of all purpose flour
1/4 tsp salt
1 egg and 2 tbsp water for egg wash
1/2 cup of chopped almond or any choice of nuts
Directions
Heat oven to 325°F.
In a bowl, mix flour and salt (dry ingredients)
Using a large bowl, cream butter, sugar, almond powder and almond extract till smooth.
With electric mixer on low speed, add flour little by little into the wet ingredients.
Shape dough into balls using a tablespoon measurement. Make thumbprints by gently applying pressure on the dough balls.
Place cookie dough on a slightly greased cookie sheet. Apply some egg wash.
Sprinkle nuts or any decorative edibles on the cookies.
Bake 20 to 22 minutes or until the bottoms have browned. Place the cookies onto a cooling rack and allow it to completely cool.

Print This Recipe