First up, the winners of Shutterfly's "Share your Spring celebration announcement" giveaway goes to: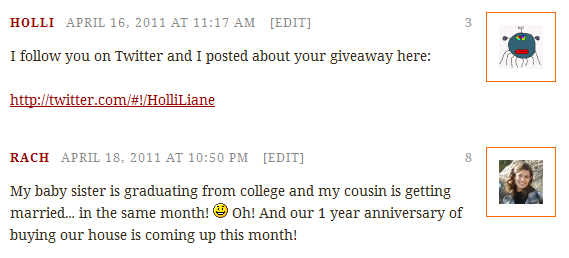 Congratulations Holli & Rach. Send me an email to claim your loot.
__________________________________________
Often I choose not to vent on my blog, but hoping this would be an exception. There has been huge frustrations all this week. Firstly, the lawn has hot spots everywhere. Followed by faulty sprinkler system, cable and Internet downtime etc. Sigh. Thank God It's FRIDAY! A lot to celebrate and be grateful for:
Happy Earth Day & Good Friday today!
It's our wedding anniversary & Easter on Apr 24th, this Sunday 🙂
I've been selected to attend #NASATweetup and final NASA shuttle launch next week from 28-29th April. Follow me on Twitter & Facebook during live shuttle lift off next week.
What are your highlights for April? Anything fun planned for the weekend?