…from India.
My first ever trip, filled with many joy, laughter, meeting new and exciting family's and friends. The bustling city of New Delhi has so much to offer. I had my fair of joy riding on a  rickshaw and auto. It was chock-filled with thrilling experiences. From dinner parties, to endless shopping and indulgence in food heaven. Let's allow the photos to speak for itself, shall we?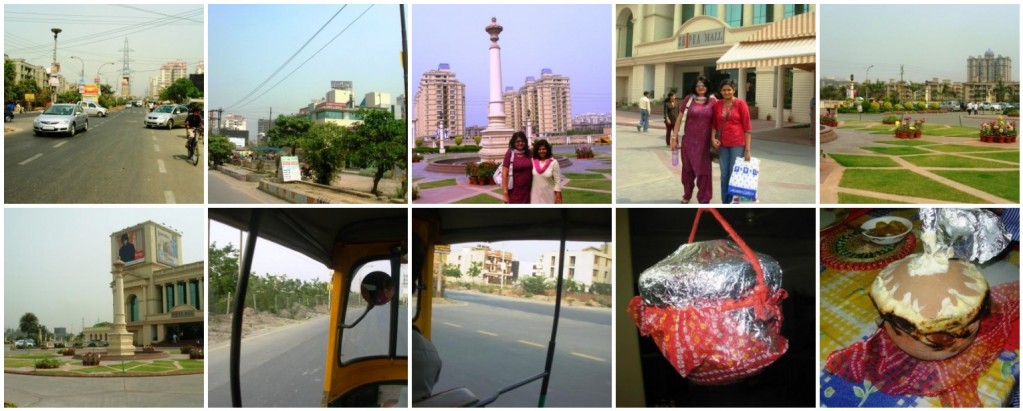 …
The last 2 photos are actually Handi Biryani – long grained Basmati rice cooked in earthen pot. It was deliciously yum!
For shopping, we raided placed like Shipra Mall, Janpath, Karol Bagh and Lajpat Nagar. A visit to Bangla Sahib brought a lot of peace and discovery of architectural beauty. We managed to sneak some time and visit Gurgaon, one of Delhi's satellite city. The skyscrapers truly was an amazing sight to watch. Such a vast difference in contrast to Delhi. For photo viewing pleasures, I hope my blogging friend AD would'nt mind me sharing this link of his thorough post about Gurgaon. I am one of the luckiest to call India my home. Our home. As a backpacker once, I would love to enjoy the serenity of this country perhaps by joining a Yoga group or center in my next adventure! Majority of tourists flock to India for soul-searching.
We got around to celebrate a couple of birthdays, lunches, dinners and it was so much of fun. We truly miss every one in India. A country bountiful of rich culture, diversity and heritage.
Now we are back to US, wishing for our next adventurous trip. I hope it's soon! That said, this is the end of my travelogue posts. Click here to read my previous Travelogue's.